About IECA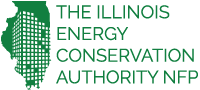 The Illinois Energy Conservation Authority NFP (IECA), is a not-for-profit corporation that was formed out of a commitment to bring innovative PACE program administration to the Chicagoland area and Midwest region. The IECA has compiled a team of Slipstream, Abacus Property Solutions, partners, advisors and consultants with deep ties to the region, and five decades of experience in serving the commercial real estate industry as well as nearly seven years of experience in PACE around the country.

, a clean-energy focused nonprofit organization, works in partnership with IECA to provide core C-PACE Program Administration Services: the proprietary C-PACE technology platform, application management, and technical review. Slipstream's role also includes the management of capital provider relationships, contractor qualification, along with providing marketing and training.  Slipstream partners with utilities, local and state governments, regulatory agencies and other organizations to create, test, deliver and scale the next generation of energy efficiency and renewable energy programs that move us farther, faster toward a clean energy economy.
The IECA is uniquely positioned to assist the Chicagoland area and Midwest region in establishing successful commercial PACE (C-PACE) programs that will support greater economic development activity, as well as contribute to developing high performing buildings through the installation of energy efficiency and clean energy technologies.