About IECA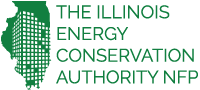 The Illinois Energy Conservation Authority, NFP (IECA), is an Illinois tax-exempt 501(c)(3) nonprofit corporation that was formed to bring innovative C-PACE program administration to Illinois and currently administers programs in most of northern Illinois, along with other urban centers across the State. The IECA has compiled a team of Slipstream, Abacus Property Solutions, partners, advisors and consultants with deep ties to the region, and extensive experience in serving the commercial real estate industry as well as over eight years of experience in C-PACE around the country.
IECA is the leading C-PACE program administrator in the state and continues to expand adoption of the IECA PACE program to participating communities throughout Illinois. The IECA is uniquely positioned to assist the Greater Chicagoland area and outlying areas in establishing successful commercial PACE (C-PACE) programs that will support greater economic development activity, as well as contribute to developing high performing buildings through the installation of energy efficiency and clean energy technologies.

Slipstream, a clean-energy focused nonprofit organization, works with IECA to provide core C-PACE Program Administration Services: the proprietary C-PACE technology platform, application management, and technical review. Slipstream's role also includes the management of capital provider relationships, contractor qualification, along with providing marketing and training.  Slipstream partners with utilities, local and state governments, regulatory agencies and other organizations to create, test, deliver and scale the next generation of energy efficiency and renewable energy programs that move us farther, faster toward a clean energy economy.

Abacus Property Solutions is a woman-owned real estate advisory firm, specializing in the development and financing of energy saving projects for commercial building owners. Abacus provides integrated technical and financial solutions that maximize building value and performance from a truly independent perspective. Abacus is an innovator in the PACE marketplace, advising localities on how to start a PACE program, opening up new markets and financing opportunities for institutional investors, and educating contractors, lenders and property owners on the business case for PACE.